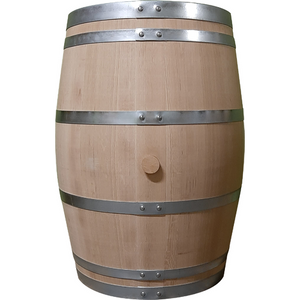 2L (0.53Gal) Hungarian Oak Barrel
Regular price $104.99 Sale
Balazs barrels is a long-trusted brand of Hungarian oak barrels coopered by the famous Balazs Nagy.  These barrels are equal or better in quality to French Oak barrels but available at a fraction of the cost of their more famous counterparts. Renowned for respecting fruit, Hungarian barrels offer winemakers a great option to impact the mouthfeel, structure and flavor of wine without stepping on the terroir of your grapes. 
Due to the tight grain and slow release of phenolic compounds, you can feel secure storing your wine in Hungarian barrels longer than you can with other barrels. The slow process of micro oxygenation rounds the wine while various compounds in the wood such hemicellulose, lipids, and lignins are slowly integrated. 
As most barrel makers know, the best source of wood for wine barrels is the oak grown in the territory of old-time Hungary, known as Slavonian oak. This rare, high-quality oak can be found in the Zemplén Mountains and in the Tokaj oak woods. The specific type of oak in those territories, and what is used in Balazs barrels, is the Quercus Petrea. This oak is characterised by a dense, hard structure combined with extra flavor. Forestry workers look after these forests with considerable expertise, and the forest density ratio in Hungary is 20–24%, with selective logging taking place between November and April. Once the wood is sourced, it is air dried and aged for 24-28 months before cooperage.
Balázs Barrels is establishing a direct cooperation with the forestry workers, ensuring the continuous supply of the best quality oak, allowing them to source and work with the most excellent oak for wine barrel manufacturing from the foremost Hungarian forests.
2 L (0.53 gal)
Height - 8.26"
Head Diameter - 5.51"
Abdomen Diameter - 6.88"
Stave Thickness - 0.39 - 0.59"
Bung Hole - 17 mm
Empty Weight - 3.3 lbs
Mild Toast
Barrel hoops made from zinc-plated steel for corrosion resistance