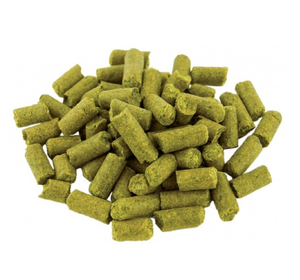 AMARILLO® Hops - 1 oz
Amarillo is a hop that has become super popular with microbrewers. Brewers are describing the flavor and aroma as a supercharged version of Cascade. Floral, tropical, and citrus (lemon, orange and grapefruit) characteristics. However, it has a distinctive Orange character to it that is very different from Cascade. Supply has been very limited the last few years so make sure to buy some while it is available. 

AMARILLO® is a trademark owned by Virgil Gamache Farms, Inc.

Hop Statistics
Alpha Acids: 8.0 – 11.0%
Beta Acids: 6.0 – 7.0%
Alpha-Beta Ratio: 1.1 - 1.8
Cohumulone: (% of alpha acids): 21 – 24%
Total Oils in mls per 100 grams dried: 1.5 – 1.9
Storage(% alpha acids remaining after 6 months storage at 68° F): Good
Similar Hop Varieties: Cascade, Centennial, Simcoe
| | |
| --- | --- |
| Storability | Average |
| Format | Pellet |
| Origin | American |
| Flavor and Aroma | Citrus, Floral |
| Alpha Acids | Average |
| Use | Aroma/Flavor |
| Total Oil Content | High |
Packaging may vary