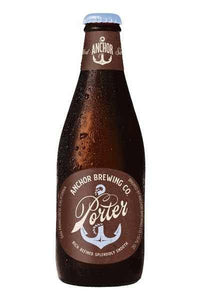 Anchor Porter - Anchor Brewing - 12 oz Bottle
From the producer:
With deep black color, a thick, creamy head, rich chocolate, toffee and coffee flavors, and full-bodied smoothness, Anchor Porter® is the epitome of a handcrafted dark beer.
A blend of specially roasted pale, caramel, chocolate, and black malts, along with our top-fermenting yeast, creates complexity without bitterness. The brew is hopped at a high rate, and naturally carbonated. The result is dark in the glass, but surprisingly light on the palate.
Anchor Porter® became the first modern American porter style beer when it was introduced in 1972. Over 40 years later, our porter continues to reward those who look beyond its intimidating appearance to discover its smooth, full-bodied drinkability. Anchor Porter® is the definitive American Porter.

Style: American Porter
ABV: 5.6%
IBU: 40



Please note that all alcohol sales require a valid ID at pickup time, and the ID must match the name on your order. Age 21 and up only, the sale of alcohol to minors is prohibited.  Please bring your order email receipt with you to expedite your pickup service.  
Sales will be voided and no refund offered if the ID is not valid, if the purchaser is found to be under 21 years of age, or is intoxicated.  
We do not ship alcohol. All purchased alcohol is available for pick up at High Altitude Home Brew Supply and Bottle Shop located at 2711 E Lakin Dr Unit 1 suite 2.  Pick up hours are from 10:30 AM - 5:45 PM Tuesday - Saturday. 
Accepted forms of ID: Driver license, State-issued Identification cards, Military Identification Cards, U.S. Passport, valid Foreign Passport, or U.S. Immigration cards.