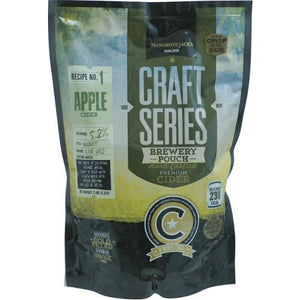 Mangrove Jack Apple Cider Kit - British Series
Regular price $54.99 Sale
Get in on the Cider making craze with a super easy to make Cider Kit. The Taste of delicious orchard apples, light and crisp with a juicy apple bite. 
ABV Approximately: 5.2 %
Style: Sweet
Color: Gold
Makes 6 gallons.
Each of our cider varieties has been formulated with only the freshest and best quality fruit which is then pressed and concentrated using state of the art evaporators, and then cold filled into a pouch. All this effort we go to ensures we preserve the natural flavor of the fruit, giving you cider which is fresh, crisp and especially good on a hot summer's day.
Please Note: You will need 2 lbs of Dextrose for this kit as well.  Alternatively you can use 5 gallons of apple cider in place of the water and skip the sugar step.   
These kits are tasty uncarbonated, but add some bubbles and things get even better.  We recommend a pack of Carbonation Drops to help give this cider a carbonic kick!
These kits come with yeast, preservative, sweetener, and Cider Extract. The yeast, preservative, and sweetener can be found in a pouch inside the W300 bag.