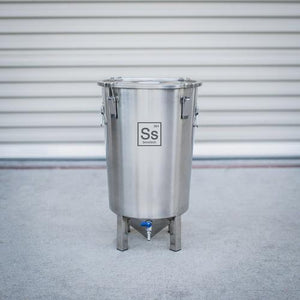 Brew Bucket Stainless Steel Fermenter - 7 Gallon
Regular price $249.99 Sale
Upgrade your home brewery with an innovative, Stainless Steel, 7 Gallon Brew Bucket™ Fermenter!  You will enjoy many of the benefits of a stainless conical fermenter but at a fraction of the cost and you are going to love how easy it is to use!  Made by Ss Brewing Technologies from polished 304 Stainless Steel, the Brew Bucket™ fermentor is not only functional it is downright beautiful. At MoreBeer!  we know brewing equipment and we truly believe this is a piece of equipment you are going to enjoy using every brew day.
We inspected and used the Brew Bucket™ and one of the most unique features that stood out is that the Brew Bucket can be stacked during fermentation, even with an airlock attached. We also like the conical bottom that allows trub to settle out in a concentrated space that minimizes the surface area of the trub that is in contact with your beer.  The included Patent Pending Rotating Racking Valve is also a brilliantly simple design allowing you to rotate the racking arm inside the Brew Bucket down during fermentation to minimize trub, and later up to get clear beer when racking!   Etched Volume Markers on the inside were super handy when filling and display in both Liters and Gallons.
The build quality is really amazing for the price. Welds are clean. The lid is strong and the spring loaded lid hatches are solid.  The lid includes a removable, molded silicone gasket that ensures an airtight seal.  We love an airtight seal so that we can be sure to see the airlock working.  The welded on stainless handles make the BrewBucket fermentor super easy to move. 
Overall: Very functional, easy-to-use, will last a lifetime, and looks amazing. Lets make some beer!
Features:
Certified Food Grade 304 Stainless Steel Construction
Patent Pending Stainless Rotating Racking Valve
6.95 gal Max Capacity
40° Conical Bottom for Trub Trapping
Nests for Storage, Stacks for Ferment!
Molded Silicone Lid Gasket
Spring Loaded Lid Clamps for Airtight Lid Seal
Offset Airlock Hole includes Silicone Stopper
Gallon & Liter Markers inside for visual volume assessment
Stainless construction resists damage and is easy to clean
21" Height x 13" Width
10 lbs
Note: 1/2" Silicone fits into the lid hole for use as a blowoff.  3/8" ID tubing is perfect for racking beer from the BrewBucket's valve.