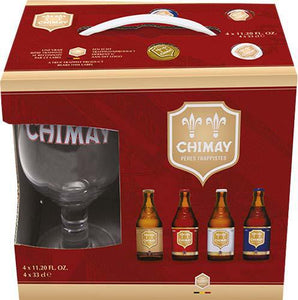 Chimay Quadrilogy gift pack - 4 11.2 oz bottles and a branded glass
Regular price $26.99 Sale
Chimay Dorée – 4.8% ABV
Dorée (Gold) has been brewed inside the abbey walls since 1862, but was only available for the private consumption of the monks. They did not want to hurt local breweries who brewed light-drinking beers called Bier de Ménage or "household beer." Thankfully in 2013 this drinkable Trappist style was allowed to leave the abbey walls.
Named "Dorée" for its delicate golden color, this refreshingly crisp ale brings a delicious balance of citrus and spice. A fluffy white head releases the aromas of summer fruits followed by sparkling mouthfeel which ends with a hint of bitterness.
Chimay Première – 7.0% ABV
Chimay Première was the first ale to be sold by the Trappist monks in 1862, hence the name. The monks did not want sell a beer that would compete directly with the lighter style beers in the region and harm the local economy for which they worked to reinvigorate. These local beers were known as "household beer." So, the first brand they brought to market was the Chimay Red in 750ml bottles. It became famous for its dark copper color, rich creamy foam and nutritious quality.
The beer gives forth distinct apricot aromas and has a pleasantly light and silky mouthfeel which finishes with a touch of bitterness. At 7% alcohol the more subtle esters of Chimay's yeast strain emerge nicely which gives the perception of a variety of fruits. This yeast strain was isolated by reverend Father Theodore following his studies at brewing school in Leuven after WWII. It was an important achievement in brewing and set Chimay's reputation for consistency, quality and innovation that remains today.
Chimay Cinq Cents – 8.0% ABV

First brewed in 1966 by reverend Father Theodore and it was his final contribution to the Chimay line of beers. It was formerly known as "White Cap" and no other brew has been created since. Cinq Cents translates to 500, honoring the 500th anniversary of the Principality of Chimay whose support made the founding of the Scourmont Abbey possible in 1850.
Cinq Cents has a typical golden color, a slightly hazy appearance topped with a fine foam which releases a bouquet of fruity esters and floral-hop aromas. Mellow flavors of muscat, golden raisins and fresh bread are perfectly balanced by the distinct hoppy bitterness.
Grande Réserve – 9.0% ABV

First launched in 1948 as a Christmas ale under the name "Blue Cap." It's success and reputation as a strong ale of the highest quality led to it's year-round production as Chimay Grande Réserve. Today it is the standard bearer of the Chimay range and has become notortious for its amazing cellaring ability. A beer cellar on the grounds of the abbey secures a vast selection of Chimay Blue bottles whose ages span a multitude of decades.
The beer is remarkably dry for the style and the hint of sweetness is derived purely from the highest quality of malts. Flavors of dates, fig and pear are complimented by aromas of dark bread, with a touch of rose. As the beer ages it maintains its elegance while taking on flavors or sherry and tobacco.



Please note that all alcohol sales require a valid ID at pickup time, and the ID must match the name on your order. Age 21 and up only, the sale of alcohol to minors is prohibited.  Please bring your order email receipt with you to expedite your pickup service.  
Sales will be voided and no refund offered if the ID is not valid, if the purchaser is found to be under 21 years of age, or is intoxicated.  
We do not ship alcohol. All purchased alcohol is available for pick up at High Altitude Home Brew Supply and Bottle Shop located at 2711 E Lakin Dr Unit 1 suite 2.  Pick up hours are from 10:30 AM - 5:45 PM Tuesday - Saturday. 
Accepted forms of ID: Driver license, State-issued Identification cards, Military Identification Cards, U.S. Passport, valid Foreign Passport, or U.S. Immigration cards.