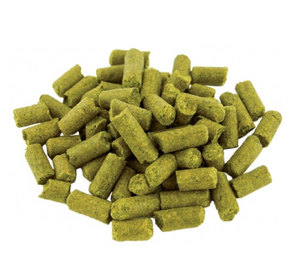 Cluster Hops - 1 oz
Thought to be among the oldest hops in the U.S., Cluster hops also grow similarly in Australia and other regions. Its origins are vague, but Cluster was first found in Oregon, though it may have originated in Canada and has been readily available since the 1960s. With a robust aroma and substantial bittering quality, this hop is utilized as a dual purpose brewing ingredient. A very fruity aroma with fresh, hoppy notes lends itself well to multiple beer styles, but is most commonly used in darker brews like Lagers, Stouts, and Porters. 
An alpha acid range of 5.5% to 8.5% is what really makes the Cluster hop perfect in those deep brews. Varietals like Galena hops can be substituted for Cluster to provide a similar character. Taste the difference in commercial brews like Mendocino Brewing Co.'s Blue Heron Pale Ale.
All hops are packaged in oxygen, light and moisture barrier bags. They are purged with nitrogen and stored cold to optimize freshness. Resealable packages feature a tear notch and zipper.
Master Pack Quantities:
1oz - 50 / 150
2oz - 25 / 100
8oz - 25
1lb - 15
5lb - 3
Click on the specifications tab for product details.
| | |
| --- | --- |
| Storability | Excellent |
| Format | Pellet |
| Origin | American |
| Flavor and Aroma | Earthy, Floral, Fruity |
| Alpha Acids | Average |
| Use | Dual Purpose |
| Total Oil Content | Average |
Packaging may vary