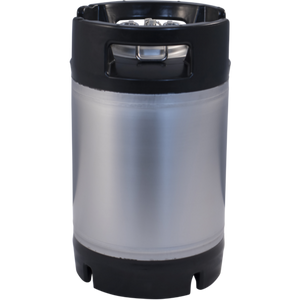 Corny Keg - 2.5 Gallon Ball Lock Keg
Regular price $109.99 Sale
Ditch the bottles and start kegging today! Save time, reduce the risk of infection and get all those bottles out of the kitchen for good! 
Brand new 2.5 gallon Kegland kegs offer convenience, security and insurance when compared to used or reconditioned kegs. There's no need to replace gaskets or other parts, no need to trust that someone else did a good job with reconditioning, and no possibility of residual flavor or aromas getting into your beer!
These Premium 2.5 gal kegs have a lid with an internal tab/hook under the lid designed specifically for attaching dry hopping bags.
Features:
130 PSI Operating Pressure
2.5 Gallon (9.5 L) Capacity
Dry Hop Tab Welded into Lid
304 Stainless Steel
Dimensions:
Height: 14.5 in.
Diameter: 8.375 in.
Kegland Part Number: KL02882