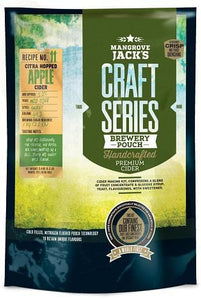 Craft Hard Cider Citra Hopped Recipe Kit - Mangrove Jack's
Regular price $59.99 Sale
Crisp and refreshing, the fruity and sweet taste of delicious orchard apples is complimented with tropical hop notes. This traditional style hard cider can be served still over ice, or with carbonation to make a refreshingly spritzy drink. Served lightly carbonated, cider pairs exceptionally well with food. Fresh cheese, leafy greens, seafood morsels, and anything slow-cooked, smoked, or barbecued will perfectly complement the boozy apple nectar of fall.
Each of Mangrove Jack's cider varieties has been formulated with only the freshest and best quality fruit which is then pressed and concentrated using state of the art evaporators, and then cold filled into a pouch. All this effort we go to ensures that the natural flavor of the fruit is preserved, giving you cider which is fresh, crisp, and especially good on a hot summer's day. 
If you don't like apples, just remember a cider a day also keeps the doctor away.
Note: 2 lbs of Dextrose is required for proper fermentation. Other sugars, like brown sugar, can be used. 
Specs:
Yield: 6 gallons of Hard Cider
ABV: Approx.  5.2%
Color: Gold