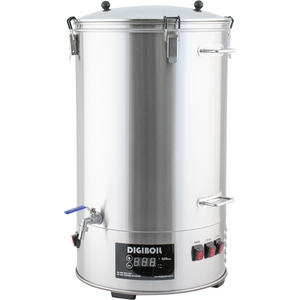 Digiboil 65L
Regular price $299.99 Sale
The DigiBoil electric kettle can serve a surprisingly wide range of functions. It's perfect for 10-gallon extract batches, preheating strike or sparge water, and with the addition of a still top lid and condenser, it can be used for home distilling. With the Mash Upgrade Kit, you can easily use the DigiBoil as an electric mash tun.
This model runs off 220V power and has three heating elements (2000w, 1000w and 500w) that can be controlled independently. Includes 304 stainless steel 1/2" ball valve with 13mm barb (approx. 1/2").
The DigiBoil is also an excellent choice for candle making. It quickly melts wax and holds the temperature needed to prevent the wax from solidifying.
Features:
304 stainless steel construction
17 gallon total capacity
Digital temperature control
220V / 20A power
NEMA 6-30R plug (4.5 ft. cord)
Stamped-in volume markers (gallons & liters)
Temperature reads in °F or °C

With elements turned off, hold both +/- buttons to switch between °F or °C

External Dimensions: 29" H x 19.5" W (including handles)
Internal Dimensions: 20.25" H x 15.75" W