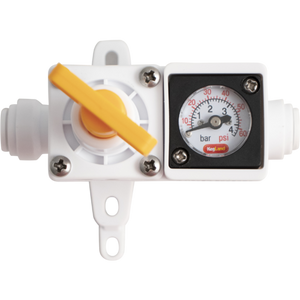 Duotight In-Line Regulator with Gauge
Regular price $18.99 Sale
Easily set different pressures down stream from a single CO2 regulator
Serve different beer styles at different pressures
Compatible with both liquid and gas
8mm (5/16") Duotight fittings at both ends
Built-in and interchangeable pressure gauge reads from 0-60 psi
Easily disassembles for cleaning
Made from food grade acetal
Stainless screws
Made with quality EPDM seals
Wall mountable
The Duotight In-Line regulator is an ideal solution if you want to serve different beers at different gas pressures. In a typical multiple line, multiple pressure system you would run a gas line from your main regulator into a secondary regulator where you would set different pressures. While that is ideal, it is a little pricey. This little sweetheart lets you set different pressures at a far lower cost. What we do is set the main regulator at the highest pressure we want in the system - for example a keg of soda that you want to carbonate and serve at 25 psi.  Run the gas line into a manifold and then install one of these after the manifold on each line where you want to decrease the pressure, for example lowering to 10psi to serve your British pale ale and 14 psi to serve your summertime lawnmower lager.
Works with both gas and liquid. Easily adjust the flow can be adjusted with the yellow adjustment knob. 8 mm Duotight fittings at both inlet and outlet make this unit perfect for use with EVABarrier 8 mm OD tubing (D1717 or D1718).  Features an integrated pressure gauge so you can quickly and easily dial in your pressure setting. The gauge is removable and can be swapped out with a gauge of a different pressure range.
WARNING: Do not exceed gauge pressure. Exceeding the pressure range will damage the gauge.