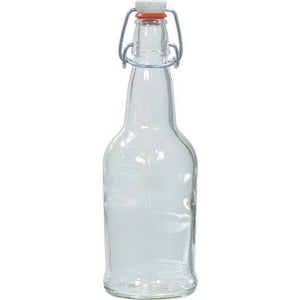 Pop Top Bottle 16 oz Clear
Pop Tops Swing Top Bottles from Pop Cultures provide the best of both worlds when it comes to bottling! They provide the ease and flexibility of flip top bottles, with the added ability to cap for shelf stability.  These attractive and robust bottles are ideal for whatever beverage tickles your fancy. Whether you got hooch, booch or beer, it's all good in here. No capper or additional equipment required when using the swing tops. Resealable, reusable and recyclable (though you will never want to get rid of these bottles!).
Bottles rated to 100 PSI.
Case of 12 x 16 oz Clear Pop Tops Bottles with Swing Tops.  Crown Caps not included