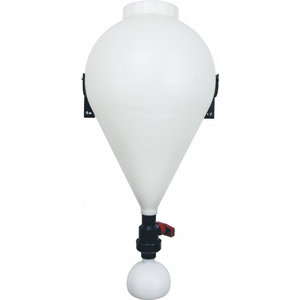 Fast Ferment - 7.9 Gallons
Regular price $111.99 Sale
Move over Buckets & Carboys, FastFerments are taking over! This 7.9 Gallon Conical Fermenter eliminates Racking & Transferring by doing Primary & Secondary Fermentation in one Vessel.  This saves approximately 80% of the time & labor needed to make a batch of beer or wine compared to traditional methods.  This method will take less labor, time, and a lot less cleaning!
The FastFerment is a professional system for any and every Homebrewer & Winemaker. The conical design limits exposure to oxygen & allows for yeast harvesting; the end result being consistently high quality batches of beer and wine.
 
Why Use FastFerment?
Guaranteed Consistent Batches
Primary & Secondary Fermentation in the Same Container
No Transfers & No Racking - 80% Less Work
Better Quality Product with No Sediment Contamination
Increased Sanitation with Less Contamination
Less Oxygen Exposure
Ability to Harvest Yeast & Save for Reuse
New Features and Benefits
Easy Cleaning and Batch Stirring - 6" (15cm) removable screw top
Total Capacity 7.9 US Gallons/ 30 Litres - Made for 5 - 7 Gallon batches with blow offs
Easy Wall Mounting System - Mounts to standard 16" (40cm) wall studs
33% Bigger Valve for Increased Flow Rate - 1" (2.5cm) Bottom valve compared vs. 3/4" (2cm)
Collection Ball for Yeast Harvesting - Save $100's & harvest your Yeast Strains!
Temp. Monitoring Capabilities - SS ThermoWell included - Thermometer Avail.
Kit Contents
One 7.9 US Gallon / 30 Litre Conical Fermenter
6" (15cm) Screw Top, Grommet & Airlock
Bottom Collection Ball For Harvesting Yeast
1" Union Teflon Valve and fittings
Wall Mounts (2), Mounting Bolts & Anchors (4)
1/2" (1.25cm) PVC Hose (4"/120cm) & Hose Clamp
Permanent SS Thermowell for Temperature Monitoring
Instructions
Specifications
Made with HDPE: Food Grade
Heights

On wall mounts from bottom of collection ball:

To top of Airlock: 35.5", 90cm
To top of Lid: 32", 81cm
 

In the Stand:

To top of Airlock: 37", 94cm
To top of Lid: 33.5", 85cm

Widths

With Wall Mounting Bolts: 14.75", 37.5cm
Without Wall Mounting Bolts: 14.25", 36cm

7.9 US Gallons/ 30 Litres
1" (2.5cm) Teflon Seated Union Valve
6" (15cm) Removable Screw Top Lid
Stand sold seperately