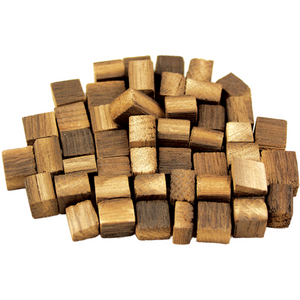 French Oak Cubes (Stavin) - Medium Plus Toast - 1oz
Premium, Fire-Toasted Oak Cubes from Stavin
Medium + Toast French Oak will impart flavors of vanilla, cinnamon and chocolate with notes of coffee and campfire.
These fire-toasted oak cubes are as close as you can come to the full range of flavors you would get from aging your beer in a full sized barrel, unlike convection-toased cubes. 
The difference is that convection toasted cubes are made by cutting the stave to size, then passing the small cubes through a toasting chamber. Stavin fire-toasts their staves whole, just like they would when making a barrel, and then cuts them down to size. The result is a gradation of toasting from the surface through to the center of the cube, where each different toast level represents a different flavor set that the oak will give your beer. The result is a much more complex and natural profile; by comparison convection toasted cubes taste one dimensional.
Oak cubes also release their flavor into your beer more slowly than chips, giving you more control over the final degree of impact in your beer. You should plan on an extended aging period of 1-6 months when using cubes. This longer contact time again promotes flavor complexity by allowing all the flavors of the oak and your beer to marry.
Recommended Dosage is 2 oz per 5 gallons for impact equivalent to aging in a brand new oak barrel.