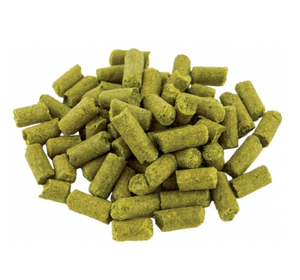 German Tradition Hops - 1 oz
Also known as Hallertauer, German Tradition, or Traditional, these hops were bred from a cross of Hallertauer Mittelfruh, Gold, and Saaz at the Hull Hop Institute and registered in 1993. Used primarily as an aromatic hop in brews, Tradition also imparts a crisp bite of flavor from its unique lineage. 
Tradition hops generally have an alpha acid range of about 5% to 7%, and can offer a pleasing balance of bitterness and crisp floral, herbal aromas in brews like German Ales, Pilsners, and Hefeweizens. Parent Hallertauer Mittelfruh has the most similar characteristics to German Tradition hops, and is therefore the best substitution. Taste German Tradition hops in commercial brews like Victory Brewing Co.'s Braumiester Pilsner.
All hops are packaged in oxygen, light and moisture barrier bags. They are purged with nitrogen and stored cold to optimize freshness. Resealable packages feature a tear notch and zipper.
Master Pack Quantities:
1oz - 50 / 150
2oz - 25 / 100
8oz - 25
1lb - 15
5lb - 3
Click on the specifications tab for product details.
California 
| | |
| --- | --- |
| Storability | Good |
| Format | Pellet |
| Origin | German |
| Flavor and Aroma | Noble, Fruity |
| Alpha Acids | Low |
| Use | Aroma/Flavor |
| Total Oil Content | High |