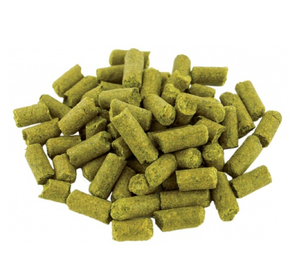 Sabro Hops (HBC-438) Hops - 1 oz
Sabro™ brand HBC 438 is the newest aroma hop release from the Hop Breeding Company. Sabro is notable for its complexity of fruity and citrus flavors. It imparts distinct tangerine, coconut, tropical fruit, and stone fruit aromas, with hints of cedar, mint, and cream. Sabro's pedigree is the result of a unique cross pollination of a female neomexicanus hop. With a robust brewing performance, Sabro proves to be a strongly expressive hop that translates its flavor incredibly well into beer.


While we know this hop has enticing aromas of stone and tropical fruit, orange, mint, and herbal, we don't know what beers will make it shine. Vinnie from Russian River Brewing (of Pliny fame) used this hop in an experimental beer brewed for the National Homebrewers Conference. We recently attended a talk where he raved about this hop. Now's your chance to be among the first developers of recipes that incorporate this hop.  Let your creative genius shine, and see what you can brew.


This beaty now has a name: SABRO!
 
Hop Statistics:

Alpha Acids: 14-18%
Beta Acids: 6-7%
Alpha-Beta Ratio: 2 - 3
Cohumulone: (% of alpha acids): 20-25%
Total Oils in mls per 100 grams dried: 2.5-3.5
Storage (% alpha acids remaining after 6 months storage at 68° F): N/A
| | |
| --- | --- |
|   |   |
|   |   |
|   |   |
| Weight | 0.07LBS |
| Storability | N/A |
| Format | Pellet |
| Origin | American |
| Flavor and Aroma | Citrus, Tropical, Pleasant |
| Alpha Acids | High |
| Use | Dual Purpose |
| Weight | 1 oz. |
| Total Oil Content | N/A |