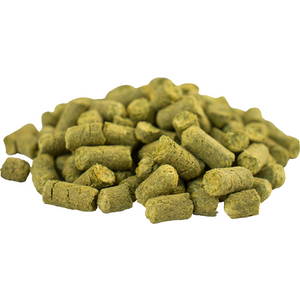 HBC 472 Pellet Hops - 1 oz
HBC 472 hops were bred and developed through the Hop Breeding Company (HBC) in the Yakima Valley, Washington and is the result of the open pollination of a wild American hop known as the subspecies neomexicanus. The uniqueness of the flavor characteristics HBC 472 gives to beer has generated a great deal of interest in this cultivar among brewers. This special hop is truly one of a kind with considerable potential.
The aroma of the HBC472 hop cones consists of floral, woody, earthy, and coconut. In beer, this hop delivers a surprising fruity note along with its distinctive "472 coconut-woody character". When hopped aggressively in IPA style beers, citrus and grapefruit aromas rule, but a fascinating whiskey/bourbon and coconut character breaks into the background, especially evident in darker, malt-forward beers. The robust character of this hop lends well to full flavor beer styles such as pale ales, IPAs, porters, stouts, and barrel-aged beers.
 
Hop Statistics
Alpha Acids: 9.0 – 11.0%
Beta Acids: 7.0 – 9.0%
Alpha-Beta Ratio: 1.00 - 1.57
Cohumulone: (% of alpha acids): 44%
Total Oils in mls per 100 grams dried: 1.5 – 2.5
| | |
| --- | --- |
| Format | Pellet |
| Origin | American |
| Flavor and Aroma | Floral, Woody, Coconut |
| Alpha Acids | Average |
| Use | Aroma/Flavor |