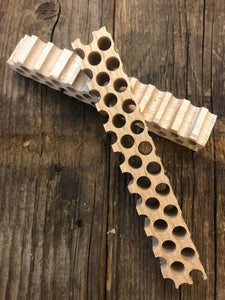 Hickory Honey Comb Barrel Alternative
Black Swan Honey Comb Barrel Alternatives Allow for quick wood extraction.  
Hickory Contributes flavors of Honey, BBQ, hickory smoked bacon, applesauce, cocoa coconut
Instructions for use:
Insert an appropriate amount of HONEY COMB® into a vessel that contains beer, wine, or spirits.
(1″ per gallon for Beer, 3″ per gallon for Wine/Spirits)
For ease of extracting the HONEY COMB® stick out of the vessel, simply tie monofilament line to stick and tape to the outside of the vessel to prevent slipping.
This is a fast extraction product and delivers flavor rapidly, we recommend watching the progress carefully.
Extraction will be complete in 6 weeks for spirits and as soon as 1 week for beer and wine, take out sooner if you reach desired flavor profile.