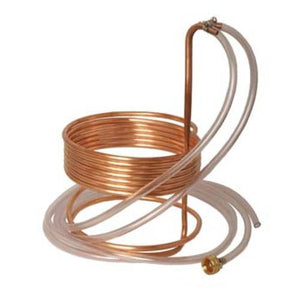 Immersion Chiller 25 ft
Regular price $79.99 Sale
In a traditional wort chiller, the coils rest on the bottom of the pot and the hot wort on top takes a very long time to reach them, making the entire process time consuming and inefficient. Our original, simple innovation for the Immersion Wort Chiller from MoreBeer! is to move the coils right to the top where the majority of the heat is. This promises to give you the fastest heat exchange possible, to cool your wort down more efficiently and to get your brew into the fermenter as quickly and cleanly as possible. There is also no need to stir during chilling which reduces contamination and allows your trub and spent hops to settle to the bottom of your kettle. 
Some other key differences of our wort chillers. We solder the copper tubes together at the top of the chiller, out of wort, so that the whole unit retains its shape. Other chillers use hose clamps which is a less permanent, but much cheaper, solution.  The connection feeds on our chillers our bent out down at an angle so that if there is any dripping at the copper/vinyl connection point it drips out of the kettle and not back into your beer. Also works perfect with a kettle that features a notched lid. Made in the USA in our metal shop.  
Stats
25 feet of 3/8 inch copper tubing
8 feet of vinyl tubing at both the in and the out
Female garden hose fitting is included for easy adaptation to a garden hose.
10" diameter, 8" to the top coil, 15" to the bend to go over the lip of the kettle.