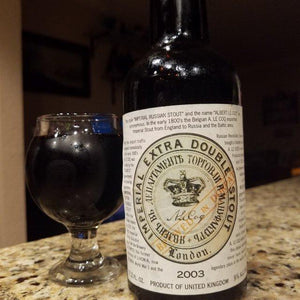 Imperial Extra Double Stout vintage 2003 - Harvey and Son - 11.2 oz bottle
Regular price $17.99 Sale
From the producer:

The style "IMPERIAL RUSSIAN STOUT" and the name "ALBERT LE COQ" are synonymous.  In the early 1800's the Belgian A. LE COQ exported imperial stout from England to Russia and the Baltic are. After the import traffic increased dramatically in the early 1900's A. LE COQ was invited by the TSARIST government to brew his legendary IMPERIAL DOUBLE STOUT within the Russian empire.  in 1912 the first imperial Extra Double Stout left the Brewery in TARTU, the former province of LIVONIA, now Estonia.  World War 1 and the Russian Revolution, however, brought a dramatic end to A. LE COQ's venture.  Production ceased until 1921 and his brewery was nationalised by the BOLSHEVIK government.  the facsimile label on each bottle of Imperial Extra Double Stout pays homage to A. LE COQ without whom this classic style would never have reached its legendary place in the world of beers.  




Please note that all alcohol sales require a valid ID at pickup time, and the ID must match the name on your order. Age 21 and up only, the sale of alcohol to minors is prohibited.  Please bring your order email receipt with you to expedite your pickup service.  
Sales will be voided and no refund offered if the ID is not valid, if the purchaser is found to be under 21 years of age, or is intoxicated.  
All purchased beer is available for pick up at High Altitude Home Brew Supply and Bottle Shop located at 2710 N Steves Blvd Suite H.  Pick up hours are from 10:30 AM - 5:45 PM Monday-Saturday. 
Accepted forms of ID: Driver license, State-issued Identification cards, Military Identification Cards, U.S. Passport, or U.S. Immigration cards.