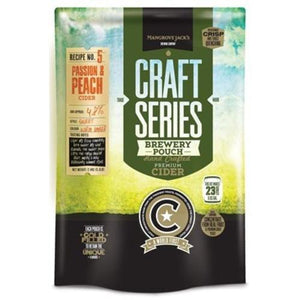 Mangrove Jack's Craft Series Peach & Passionfruit Cider Pouch 2.4 kg
Regular price $54.99 Sale
Light and fizzy combining both sweet and sour flavors. The sweet peach lifts the tangy passion fruit, making a very refreshing summer cider. 
ABV Approx: 4.8%
Color: Warm Amber
Style: Sweet
Each of Mangrove Jack's cider varieties has been formulated with only the freshest and best quality fruit which is then pressed and concentrated using state of the art evaporators, and then cold filled into a pouch. All this effort goes to ensure the preservation of the natural flavor of the fruit, giving you cider which is fresh, crisp and especially good on a hot summer's day. If you don't like berries, just remember a cider a day also keeps the doctor away. 
1 kg of Dextrose needs to be purchased in addition.