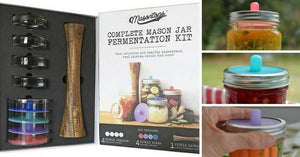 Mason Jar Fermentation Kit
Regular price $70.00 Sale
Masontops Complete Mason Jar Fermentation Kit
Everything you need to start small batch food fermentation at home!
The Masontops Complete Mason Jar Fermentation Kit includes all the tools needed to start experimenting with the tremendous flavor and nutritional impact of fermented foods. This set includes a set of innovative Pickle Pipe Silicone Airlocks, Pickle Pebbles PLUS+ Clear Glass Fermentation Weights, and the Pickle Packer, an all natural acacia wood vegetable tamper.
Complete Mason Jar Fermentation Kit Includes:
-4 Pickle Pipes (for Wide Mouth Mason Jars)
-4 Pickle Pebbles
-Pickle Packer
The Pickle Pipe is an incredibly simple, easy to use one-piece waterless airlock. It allows gas to escape your mason jar to avoid pressure build up, while preventing any contaminants from re-entering your jar. Simply place on the top of your mason jar and screw into place using a standard mason jar sealing band. This truly "set and forget" solution allows to leave your Pickle Pipe Silicone Airlock, unmonitored, for weeks. With no need to "burp" your airlock or monitor water levels found in water-based airlock, the Pickle Pipe makes fermenting simple. Crafted of FDA food-grade certified silicone, the Pickle Pipe is also dishwasher safe.
For use in both traditional ceramic fermentation crocks as well as wide mouth canning jar, Pickle Pebbles PLUS+ have been specifically designed to improve your lacto ferments by keeping your veggies submerged in their brine, eliminating oxygen exposure, and taking much of the guess work out of your fermentation process. Each pebble measures about 3" in diameter and .75" thick, one pebble is typically enough for keeping your fermenting veggies below the brine. Pickle Pebbles PLUS+ are made of a non-iridized soda glass, ensuring that it is completely inert and guaranteeing you do not experience any flavor leaching during fermentation.
The perfect veggie packing device for wide-mouth and regular mouth mason jars! The Pickle Packer is made from all natural, untreated Acacia wood and sealed with food safe mineral oil. Sustainable and eco-friendly, acacia wood is also known for its remarkable strength and durability making it ideal for packing vegetables. The unique design allows both ends of the Pickle Packer to be used, one end measuring 2.5" the other 2", allowing you to use this packer with a wide variety of fermenting jars and containters. Pickle Packer measures 10" in length.
Care Instructions for Pickle Packer:
Hand wash with soapy, warm water only. Do NOT use in dishwasher or allow to stand in water as it may damage the wood. Occasional oiling may lengthen life of this product. Use food safe mineral oil for oiling.