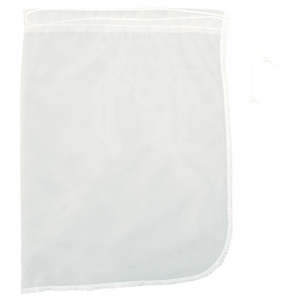 Mesh Bag 6" x 8"
Reusable small Nylon Mesh Bags are an indispensable part of any brew day.
These food-grade nylon bags are available in a range of sizes and with either a fine or a medium mesh weave, which make them both more versatile and a better value than disposable cloth muslin bags. These bags are used for a wide range of different applications during brewing and fermentation.
Nylong bags are often times used to add pellet hops to the boil or as a dry hop in the fermenter. Retains the vast majority of the hop material, making for clearer beer and easier transfers. Can also be used to add smaller amounts of other adjuncts to the boil or fermenter, such as orange peel, oak, spices, etc. This small 6 x 8 inch nylon mesh bag will hold up to 2  oz of pellet hops after they swell up. Features a handy drawstring to keep the bag closed and tie it off to your kettle handle, spoon or mash paddle.