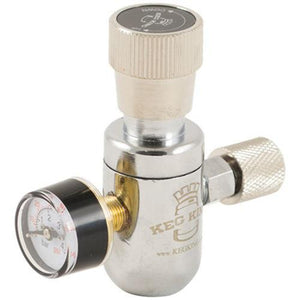 Mini CO2 Regulator
Regular price $37.99 Sale
Be the hit of the next party, tail gater, softball game, etc when you show up with a keg of your homebrew!  This compact, affordable CO2 regulator allows you to leave your heavy, bulky CO2 system at home.  Use this small, portable, adjustable regulator along with a threaded 16g CO2 cartridge (not included) to pour kegged beer anywhere! Depending on your style of keg you will either need a ball-lock or pin-lock quick disconnect.  
Works with standard threaded 1/4" flare Keg Fittings
Made from machined anodized aluminum. Regulator can read 0 - 65 psi (0-1.5 Bar).
Requires a 3/8" threaded 16g CO2 cartridge