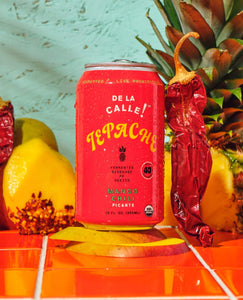 Picante Mango Chile Tepache - De La Calle - 12 oz can
From the producer:
For those who go bold, this flavor features a delicate balance of sweetness from juicy mangoes and a hint of spice from the chilis.
A DELICATE BALANCE OF PERFECTLY RIPE MANGOS AND SWEET, SPICY CHILIS, OUR PICANTE FLAVORED TEPACHE IS A CROWD-PLEASER FOR A REASON! THE ULTIMATE DUO.
INGREDIENTS
Tepache* (Filtered Water,Turbinado Sugar* Pineapple*,Tepache, Cultures), Mango Puree*, Erythritol*, Agave Inulin*, Apple Extract*, Pineapple Extract*, GingerExtract*, Black Pepper Extract*, Cinnamon Extract*, BacillusCoagulans MTCC 5856 *Denotes Organic Ingredient
TEPACHE IS A PINEAPPLE PROBIOTIC THAT HAS BEEN SERVED AND SIPPED SINCE ANCIENT TIMES. TRADITIONALLY HOMEBREWED, THIS NATURALLY FERMENTED BEVERAGE IS MADE WITH PINEAPPLES AND A UNIQUE BLEND OF AROMATICS AND SPICES.