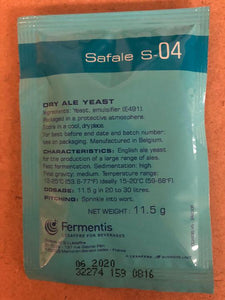 Safale S-04 Dry Yeast
Homebrewers love this commercial English Ale yeast for its big, clean flavor; its rapid fermentation; and its highly flocculant character.
Widely recommended for practically any American or English style beer, S-04 yeast a rapid starter and finisher which settles out extremely well, leading to a clean finished beer. Great to keep a few packets as back-ups or just to use as a less-expensive alternative to liquid cultures.
This yeast can be pitched directly, but if you prefer to rehydrate, the instructions are below.
Sprinkle the yeast in a minimum of 10 times its weight of sterile water or wort (we suggest 4 oz) at 70°F to 77°F (21 to 25 °C). Do not stir. Leave to rest 15 to 30 minutes. Gently stir for 30 minutes, and pitch the resultant cream into the fermentation vessel.
Recommended temperature range: 64F-72F.