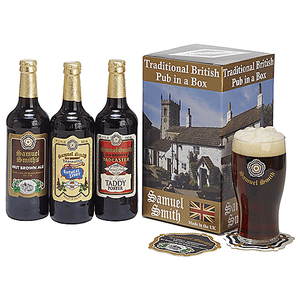 Samuel Smith Holiday Gift pack - Pub in a box
Regular price $12.99 Sale
From the producer:
This Samuel Smith's Gift Box features a Victorian pint (18.7 oz. or 550 ml), one of each of three classics from Samuel Smith: Nut Brown Ale, Oatmeal Stout, and Taddy Porter. It also includes an authentic Samuel Smith pint glass, and two "Rose of Yorkshire," coasters. This "Traditional British Pub in a Box" comes in heavy full-color packaging showing the Greyhound Inn in Saxton, a 13th-century village pub.
Taste
Nut Brown Ale - Style-defining amber-brown ale with a hint of nuttiness from dark malt. (No nuts are used in the recipe.) Finishes with a satisfying fruitiness from the Samuel Smith yeast strain; fermented on open-top stone "Yorkshire Squares."
Oatmeal Stout - a small addition of oats provides smooth body and mouthfeel, and balances the roasty flavor of dark malt beautifully. This is the beer that revived the oatmeal stout style, and has inspired hundreds of other brewers. Classic, refined, elegant stout with English hops supporting the deep malt flavors.
Taddy Porter - Traditional porter, rich and inviting. The color is a bit lighter than stout, and dark-malt flavors are softer, highlighting the frutiness of the yeast strain with the dry character of roasted malt playing a supporting role to English pale malt. Fermented in "Yorkshire Squares."
Nut Brown Ale - ABV: 5.0% - OG: 1.050 - IBU: 31
Oatmeal Stout - ABV: 5.0% - OG: 1.050 - IBU: 32
Taddy Porter - ABV: 5.0% - OG: 1.050 - IBU: 32





Please note that all alcohol sales require a valid ID at pickup time, and the ID must match the name on your order. Age 21 and up only, the sale of alcohol to minors is prohibited.  Please bring your order email receipt with you to expedite your pickup service.  
Sales will be voided and no refund offered if the ID is not valid, if the purchaser is found to be under 21 years of age, or is intoxicated.  
All purchased beer is available for pick up at High Altitude Home Brew Supply and Bottle Shop located at 2710 N Steves Blvd Suite H.  Pick up hours are from 10:30 AM - 5:45 PM Monday-Saturday. 
Accepted forms of ID: Driver license, State-issued Identification cards, Military Identification Cards, U.S. Passport, or U.S. Immigration cards.