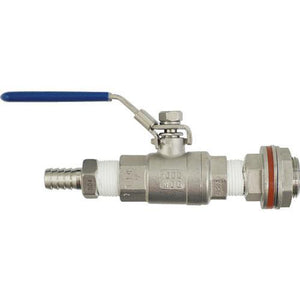 Weldless Stainless Spigot
Regular price $34.99 Sale
Do you have a kettle or cooler but would like the ease and convenience of using a ball valve to easily drain liquid? Are you a Do It Yourself Type person? At a fraction of the cost of having a spigot welded into your kettle, you can drill a hole and install a weldless ball valve.

The problem with most weldless fittings is they are thrown together from assorted hardware. Common issues include leaking and lots of flex when you use the ball valve. These new weldless fittings features are designed for brewing. There is no comparison to the weldless fittings of yesterday with their rock-solid feel and a solid, leak-free connection.

This unit is also unique in that it features 1/2" female threads on the inside. This allows you to thread in various other fittings that you can see below. Want to later make a mash tun... no problem just thread in our stainless screen. want to fully drain your boil kettle? No problem, just add our kettle maximizer! This allows for unlimited flexibility.

Weldless kit includes a 1/2" Full Port ball valve and a 1/2" barb. All fittings are made from 304 type stainless steel for a lifetime of corrosion-free use. Full installation directions included.  Manufactured by Fermentap.

You will need to drill a 1" hole in your kettle for the installation of this weldless spigot. We recommend a Step Drill Bit for this.