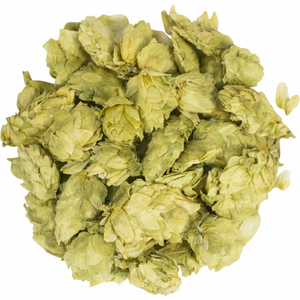 Whole Cone Willamette Hops - 2 oz
Willamette is one of the most popular hops amongst all types of brewers for its versatility and well-rounded aroma. The moderately spicy, floral and fruity notes compliment just about any style of beer and also blend beautifully with other hops in your recipe. Give Willamette a try in your next American Ale, Golden Ale, or Brown Ale brew.
Whole cone hops are typically the preffered format for dry hopping as they maintain contact with the beer by floating, they are easier to remove than pellets and they add a unique character to the beer. Adding whole cone hops directly to the mash tun is also a great way to add some extra hop flavor and to clarify your wort as it filters through the flowers.

Hop Statistics:
Alpha Acids: 4.0 – 6.0%
Beta Acids: 3.0 – 4.5%
Alpha-Beta Ratio: .89 – 2
Cohumulone: (% of alpha acids): 30 – 35%
Total Oils in mls per 100 grams dried: 1.0 – 1.5
Storage(% alpha acids remaining after 6 months storage at 68° F): 60 – 65%
Similar Hop Varieties: Glacier, US Fuggle, US Tettnang, Styrian Golding