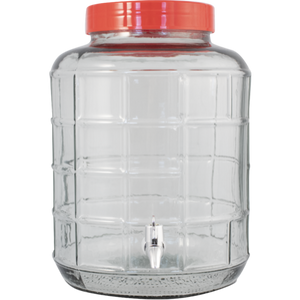 Wide Mouth Glass Carboy with Spigot - 4 gal.
Regular price $41.99 Sale
Wide mouth glass carboys provide a convenient alternative to traditional glass carboys. Cleaning is quick and easy—simply removing the lid allows you to get your hand or arm all the way inside to scrub away stubborn sediment. Includes plastic spigot, airlock lid, and carrying harness.
Airlock Lid Setup:
Twist off the small red cap
Twist on the small white cap
Pour water or sanitzer around the small white cap until it covers the blow-off vents
Features:
4 Gallon / 15 Liter capacity
Gasketed lid for tight seal
Airlock lid
Plastic spigot with 17mm x 2mm threads
18mm hole for spigot
Included carrying harness
Additional spigot styles can be found below
Please note: The carrying harness should not be used to move the vessel when full. The airlock lid is primarily recommended for short fermentations. For long term storage or aging, we recommend using a #5 stopper and standard airlock.